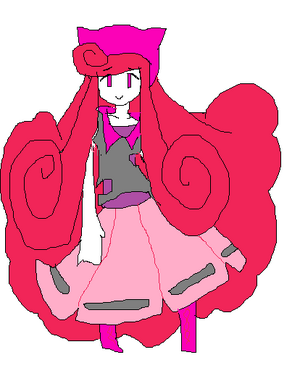 Headcanons
Edit
0005's older sister. Ever since their parents passed away in an accident and 5 close to dying, she told 530 of her ability to see and talks to ghost and coming across their parents which made 530 protective of her and swear she will protect her little sister from any bad ghosts they come across.

Though one night, paranormal activities happened around their home which lead the people in their neighborhood call the police and since 530 isn't in a legal age to take care of 5, they were forced to be separated and the nightmares of their separation haunt 530 as she later became a ghost huntress to track down any paranormal activities and bad ghosts, hoping she'll find her sister again and especially the one ghost that caused their separation in the first place.

Travels the world by spinning and twirling as fast as a helicopter.
Her hair is extremely soft and fluffy. She curls up at night and uses is as her bed.
Fanfiction
Edit
Ask Blogs
Edit
Ad blocker interference detected!
Wikia is a free-to-use site that makes money from advertising. We have a modified experience for viewers using ad blockers

Wikia is not accessible if you've made further modifications. Remove the custom ad blocker rule(s) and the page will load as expected.