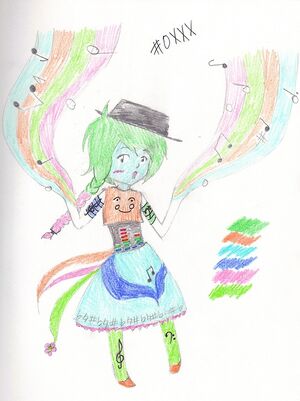 Headcanons
Edit
Has the ability to make tornados made of music.
Sings other Fanpros to sleep with lullabies. 
A wandering composer that writes her sheet music on an unknown type of scrollery. Despite it being written like any other sheet music, no musician is able to correctly read and play it while on these colorful scrolls.
Fanfiction
Edit
Ask blogs
Edit
Ad blocker interference detected!
Wikia is a free-to-use site that makes money from advertising. We have a modified experience for viewers using ad blockers

Wikia is not accessible if you've made further modifications. Remove the custom ad blocker rule(s) and the page will load as expected.