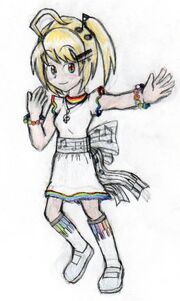 0371 was designed by deviantART artist Emiri-chu. The original deviation can be found here.
Headcanons
Edit
Is the middle child of the Concerto Sisters (0361, 0371, 0369). She can't sing on par at some times, but she has such massive breath support that she's learned how to sing for several minutes without taking a single breath.
Loves to draw and sing. Hopes to one day make a game and be both the concept artist, and sing songs for the game.
Fanfiction
Edit
Ask blogs
Edit
Ad blocker interference detected!
Wikia is a free-to-use site that makes money from advertising. We have a modified experience for viewers using ad blockers

Wikia is not accessible if you've made further modifications. Remove the custom ad blocker rule(s) and the page will load as expected.