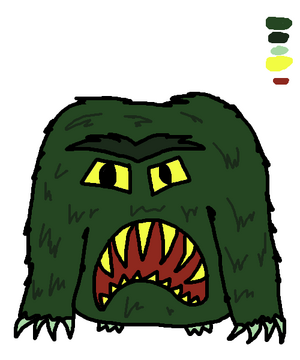 Headcanons
Edit
Is usually seen upside down. There's a toothless mouth hiding underneath his eyebrow/mustache, and is only used for speaking. When aggravated, he turns himself over and uses his toothed mouth, which is used for consumption.
Can grow and shrink his claws at will.
Was once a young girl but ignored her Grandmothers advice to keep good posture so gradually turned into this.
Was a normal rug, but got  mutated.
Fanfiction
Edit
Ask blogs
Edit
Ad blocker interference detected!
Wikia is a free-to-use site that makes money from advertising. We have a modified experience for viewers using ad blockers

Wikia is not accessible if you've made further modifications. Remove the custom ad blocker rule(s) and the page will load as expected.