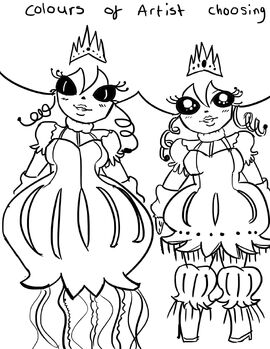 Headcanons
Edit
They are a whimsical species of fairies that exist only in the realms and communities of sea-based fae; pictured are Elucidara and Kaatae, two of Lady Fiyare's main servants and confidants
By expanding their skirts and then releasing the air trapped inside, they can propel themselves through the air and fly
276 is the maiden of time, an accursed women cut off from time itself in order to maintain and protect it. The red ribbon symbolizes the curse bestowed upon her. The maiden of time's power is equal to that of Infinity and Zero but is not classified as a deity though there are occults scattered around the universe in her name. She also deals with those foolish enough to mess with time itself, sending them to the Bubble Plane, gaps between the strings of time to forever suffer like she has.
Is married to 0266 after saving him from loneliness.
Fanfiction
Edit
Ask Blogs
Edit
Ad blocker interference detected!
Wikia is a free-to-use site that makes money from advertising. We have a modified experience for viewers using ad blockers

Wikia is not accessible if you've made further modifications. Remove the custom ad blocker rule(s) and the page will load as expected.