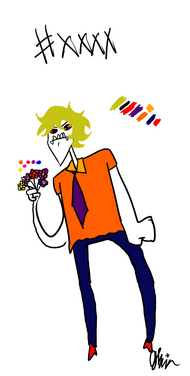 Headcanons
Edit
A rare type of monster. When a boy is rejected by over 100 girls, the emotional trauma he suffers permanently transforms him into 0266. They are generally quite harmless, and they occasionally vomit out beautiful bouquets of flowers. However, they prey on guys who are rude to women. Generally used as a morality tale to encourage politeness among young male fanpros. 
A hopeless bachelor with no skills in dating chemistry. He will often ask the girl to marry him on the first date.
Fanfiction
Edit
Ask Blogs
Edit
Ad blocker interference detected!
Wikia is a free-to-use site that makes money from advertising. We have a modified experience for viewers using ad blockers

Wikia is not accessible if you've made further modifications. Remove the custom ad blocker rule(s) and the page will load as expected.