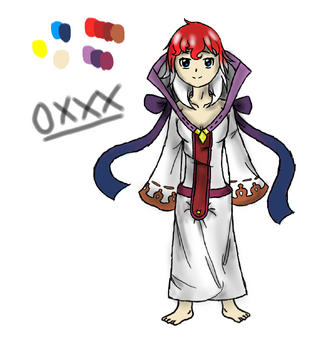 Headcanons
Edit
A self-proclaimed ambassador and to those who live in the future, or a temporal spokesperson. According to her, she hears voices that are yet to be spoken via a wishing well that exists in the city park. She's dedicated her entire soul into being able to account for any needed changes in the flow of time, but this has come to her physical senses being antagonized.

In order to properly speak to people, her spirit again relies on the centuries-old wishing well. Due to its age, she's able to pull any spoken phrases from the past, but can only speak this way, rather than being able to utter her own thoughts. This often results in her speaking in a Shakespearean fashion.

To put it simply, she hears the future, sees the present, and speaks the past.

A priestess whom occupies a mountain temple. People and monsters alike are able to visit her without worrying about violence. The path up to it, however, is treacherous.
Fanfiction
Edit
Ask Blogs
Edit
Ad blocker interference detected!
Wikia is a free-to-use site that makes money from advertising. We have a modified experience for viewers using ad blockers

Wikia is not accessible if you've made further modifications. Remove the custom ad blocker rule(s) and the page will load as expected.