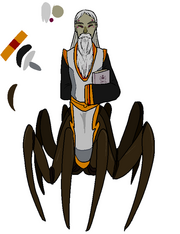 Headcanon
Edit
An all knowing spider guide.
One of 0172's many teachers and spiritual guides; was kind of the main reason that 0172 speaks in riddles so much
Is actually the size of a normal small spider and offers guidance by whispering in people's ears while they sleep.
Is a species rather than a single character. So there can be thousands of them.
A book keeper and librarian at the Atheneum, the Fanpro world's largest and finest wellspring of knowledge and current events. He attends to the historic district within the building, using his spider legs to take out and put away tomes along the multi-floor bookcases.
Fanfiction
Edit
Ask Blogs
Edit
Ad blocker interference detected!
Wikia is a free-to-use site that makes money from advertising. We have a modified experience for viewers using ad blockers

Wikia is not accessible if you've made further modifications. Remove the custom ad blocker rule(s) and the page will load as expected.