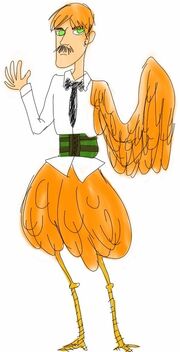 Designed by Jaffre.
 Headcanon
Edit
Since he's half bird, most people tell him to "keep his beak shut" even though he doesn't have one.
no matter how hard he tries, he'll never fly.
0505's husband. They have many opposing ideals and argue a lot, but always find a way to keep loving each other.
Fanfiction
Edit
Ask Blogs
Edit
Ad blocker interference detected!
Wikia is a free-to-use site that makes money from advertising. We have a modified experience for viewers using ad blockers

Wikia is not accessible if you've made further modifications. Remove the custom ad blocker rule(s) and the page will load as expected.