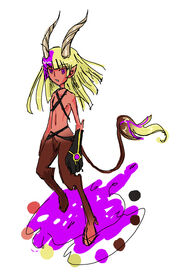 Headcanon
Edit
She's a demon satyr.
She's lived away from society for several centuries, making her oblivious to bodily shame.
Has the power to create new forms of matter, and uses it to shape entirely new environments. They're so busy making other worlds that nobody is able to meet them unless requested personally.

0147 is the only one able to see them otherwise, as she acts as their emissary.
Fanfiction
Edit
Ask Blogs
Edit
Ad blocker interference detected!
Wikia is a free-to-use site that makes money from advertising. We have a modified experience for viewers using ad blockers

Wikia is not accessible if you've made further modifications. Remove the custom ad blocker rule(s) and the page will load as expected.