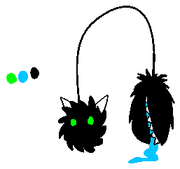 Headcanon
Edit
An evil pair of earmuffs that have come to life. The left one with green eyes and white horns is silly and good natured while the right one with pointy teeth and a blue tongue is evil and manipulative. They both will whisper evil things to do in your ears until you finally go crazy and do them. The evil things the right side whispers are kind of silly and the evil things the left side whispers are pure evil and extremely dangerous.
Fanfiction
Edit
Ask Blogs
Edit
Ad blocker interference detected!
Wikia is a free-to-use site that makes money from advertising. We have a modified experience for viewers using ad blockers

Wikia is not accessible if you've made further modifications. Remove the custom ad blocker rule(s) and the page will load as expected.