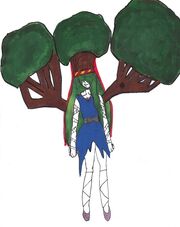 Headcanon
Edit
She's part tree and people always give her weird looks when they walk past her but she always laughs at them when they do that because she honestly doesn't care what people say or think about her.
0039 when she goes super saiyan.
It is a sort of forest spirit that actually prefers to stay underground, having only the trees on its back staying above. When summoned, it's actually quite friendly and even playful. It will also help people who happen to get lost in the forest.
Fanfiction
Edit
Ask Blogs
Edit
Ad blocker interference detected!
Wikia is a free-to-use site that makes money from advertising. We have a modified experience for viewers using ad blockers

Wikia is not accessible if you've made further modifications. Remove the custom ad blocker rule(s) and the page will load as expected.