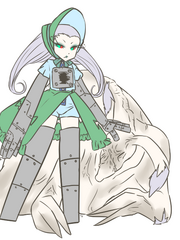 Headcanon
Edit
She's a cyborg who has no human emotions at all.
Hates most people after being betrayed by her creator, but loves, heals, cares for, and protects any animal she may come across.
very manipulative
a robot who rebelled against their creator after seeing a girl and was like lol bye im going to go be like that cool thing.
can't run very easily
A robot who was made to hunt other robots
The mechanical woman aids the large, old beast by translating its words. The woman is quite cynical and judgmental however, so she may rather express her own opinions than her master's.
She's like a spoiled rich girl, but, like, in the good way, and she's got a big old dog!

"That's a weird-looking dog, friend."
"Nah, it's fine."
Fanfiction
Edit
Ask Blogs
Edit
Ad blocker interference detected!
Wikia is a free-to-use site that makes money from advertising. We have a modified experience for viewers using ad blockers

Wikia is not accessible if you've made further modifications. Remove the custom ad blocker rule(s) and the page will load as expected.