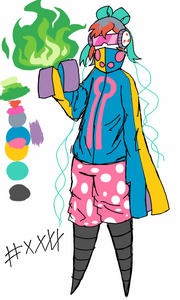 Headcanon
Edit
Works with chemicals a lot so she wears all the things she's wearing for safety.
A skilled pyrotechnician, famous for his light shows and creative patterns.
Underneath the jacket, their entire body is engulfed in green flames; the jacket is meant to keep all the fire inside them. The green flames are near impossible to put out, so the only way they can protect them self and others is to wear the jacket. The sleeves are made to act as an exhaust for the fire, which must be let out occasionally so it doesn't build up.
Fanfiction
Edit
Ask Blogs
Edit
Ad blocker interference detected!
Wikia is a free-to-use site that makes money from advertising. We have a modified experience for viewers using ad blockers

Wikia is not accessible if you've made further modifications. Remove the custom ad blocker rule(s) and the page will load as expected.