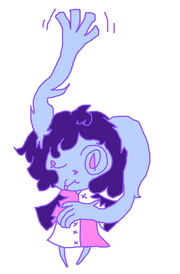 Headcanon
Edit
A little human/cat hybrid that can stretch her arms to amazing lengths.
there are very tiny arms under its large sleeves, but they can't do much.
Is considered a walking instance of "a bull in a china shop." She has a serious case of chronic dizziness, and her long arms will usually smash anything they're tossed upon.
Fanfiction
Edit
Ask Blogs
Edit
Ad blocker interference detected!
Wikia is a free-to-use site that makes money from advertising. We have a modified experience for viewers using ad blockers

Wikia is not accessible if you've made further modifications. Remove the custom ad blocker rule(s) and the page will load as expected.