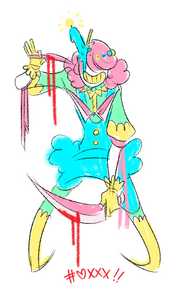 Headcanon
Edit
A psychopath that works for 0232 at Candy Cane Land.
A serial killer who only starts killing people when she hears a bell.
Plans murders according to nursery rhymes
Shows up to big birthday parties to steal cake. Anyone in the way will be killed.
can juggle anything.
Fanfiction
Edit
Ask Blogs
Edit
Ad blocker interference detected!
Wikia is a free-to-use site that makes money from advertising. We have a modified experience for viewers using ad blockers

Wikia is not accessible if you've made further modifications. Remove the custom ad blocker rule(s) and the page will load as expected.