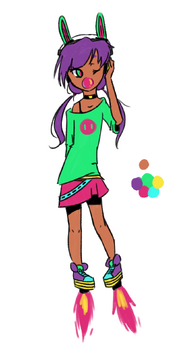 Headcanon
Edit
Loves bunnies and chewing bubblegum.
is a robot similar to 0050, and shares the same creator. a much newer model.
Is confirmed to be the fastest inhabitant of the Fanpro world. She often reaches speeds that would prove hazardous to herself and others, so she lives in the sky. She resides in a specially-made aerial shack, and can only be accessed with written approval from the designer, 0128

Her record speed is Mach 1.
Her rocket shoes are prosthetics attached to her body's nervous system. This allows her to consciously control whether to speed up or slow down.
Fanfiction
Edit
Ask Blogs
Edit
Ad blocker interference detected!
Wikia is a free-to-use site that makes money from advertising. We have a modified experience for viewers using ad blockers

Wikia is not accessible if you've made further modifications. Remove the custom ad blocker rule(s) and the page will load as expected.