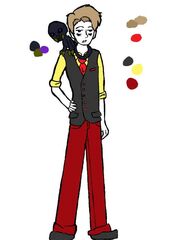 Headcanon
Edit
The thing on his shoulder is an alien he found. It's his best friend and goes with him everywhere he goes.
The thing on his shoulder is a sort of parasite. It's tail is actually connected to his neck, and it controls him with it. He is nothing more than a zombie.
very sassy
A young man who has a Tarzan complex. The pack of animals he grew up with "insists" that he adapt to human society, though he finds it too tedious or foreign to commit to. Because of his difficulty, one of the monkey-like creatures came with him as a companion.
Fanfiction
Edit
Ask Blogs
Edit
Ad blocker interference detected!
Wikia is a free-to-use site that makes money from advertising. We have a modified experience for viewers using ad blockers

Wikia is not accessible if you've made further modifications. Remove the custom ad blocker rule(s) and the page will load as expected.