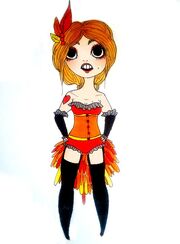 Headcanon
Edit
Pansexual and panromantic, but extremely picky
One of the universe's most accomplished con artists; leads her clients away from human eyes as possible, knocks them out, steals their financial information, and wipes their short-term memories of her with a special powder that a certain Fanpro alchemist helped her create.
The feathers are from a phoenix, and they may burst into flames at any given time.
She's a sprite representing springtime illnesses, and anyone who comes near her will catch a cold. She loves to fight, but always gives her opponents harsh fevers as an added challenge. Those who can win against her will receive 3 special pills to combat any minor sicknesses.
A young burlesque dancer who works a local pub. She has an inherent magical ability to increase the luck of whoever she holds, granting her the name "Lady Luck". She often sits next to gullible poker players and secretly uses her power to make her chosen player win. Once the earnings were collected, she takes the winner upstairs where she knocks them out and steals her "tip", followed by throwing them out.
Fanfiction
Edit
Ad blocker interference detected!
Wikia is a free-to-use site that makes money from advertising. We have a modified experience for viewers using ad blockers

Wikia is not accessible if you've made further modifications. Remove the custom ad blocker rule(s) and the page will load as expected.