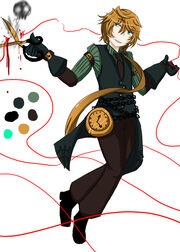 Headcanon
Edit
Was once 0412, he travels through time and kills people with scissors who made fun of him in his childhood.
He likes to use his scissors for almost everything if he can.
Master of the Red Strings of Fate; can bring people together or sever their ties depending on what is demanded
Is extremely focused on revenge
He never runs. Because he's always carrying scissors, so that would be unsafe!
Fanfiction
Edit
Ask Blogs
Edit
Ad blocker interference detected!
Wikia is a free-to-use site that makes money from advertising. We have a modified experience for viewers using ad blockers

Wikia is not accessible if you've made further modifications. Remove the custom ad blocker rule(s) and the page will load as expected.