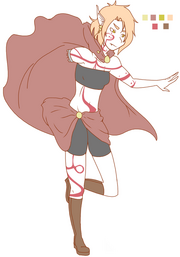 Headcanon
Edit
A supervillain whose arm was cut off when he lost a battle.
A robot who was considered a failure that ran off before they could be disassembled; considers themselves human and is sensitive to things concerning robots.
has magic powers
Her swollen, symbol-like veins are a gift from her war god, where spiritual energy pulses through her body and allows her to learn any form of martial arts or physical combat.
While fighting a battle alongside his kind, he saved another from getting hurt but ended up sacrificing his arm for it. His right arm is hurt with an extremely deadly poison that would have killed him in a matter of minutes if it wasn't chopped off immediately after it got infected.
Fanfiction
Edit
Ask Blogs
Edit
Ad blocker interference detected!
Wikia is a free-to-use site that makes money from advertising. We have a modified experience for viewers using ad blockers

Wikia is not accessible if you've made further modifications. Remove the custom ad blocker rule(s) and the page will load as expected.