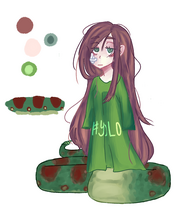 Headcanon
Edit
An experiment made by 0207 who treats her like her daughter .
She was cursed by a witch to be an anaconda.
A hikkikomori.
She has a long history of insomnia.
She's a librarian's assistant that is often seen slithering over bookcases.
She's never cut her hair before.
She has no arms.
Her mom makes her study words 24/7 and participate in spelling bees to gain fame among parents. 209 is sick of it, and wins every year, so she often tries to run away.
Fanfiction
Edit
Ask Blogs
Edit
Ad blocker interference detected!
Wikia is a free-to-use site that makes money from advertising. We have a modified experience for viewers using ad blockers

Wikia is not accessible if you've made further modifications. Remove the custom ad blocker rule(s) and the page will load as expected.