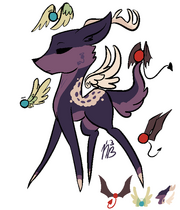 Headcanon
Edit
Is a prince of the forest, and absolutely loves a grilled porkchop.
it is actually an optical illusion created by the flying creatures surrounding it. The flying creatures will surround anything that attempts to attack the deer-like form and eat them.
It is a guadian spirit of the forest. The fly creatures around it represent souls of the dead that is ready for judgement.
Fanfiction
Edit
Ask Blogs
Edit
Ad blocker interference detected!
Wikia is a free-to-use site that makes money from advertising. We have a modified experience for viewers using ad blockers

Wikia is not accessible if you've made further modifications. Remove the custom ad blocker rule(s) and the page will load as expected.