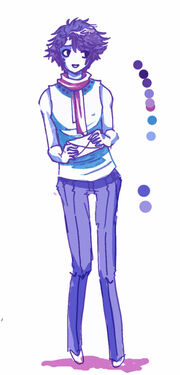 Headcanon
Edit
He/She is a mail carrier.
Can be often found holding a letter from an admirer.
A quiet youth of ambiguous gender who keeps their soul in a letter that they always carry with them. When this letter is stolen (0202 has never lost it) they transform into 0328 and chase after and eventually dismember the thief.
Gains entertainment from people trying to guess their gender/sex.
A mail carrier who started working this job after receiving a mysterious letter in the mail, hoping they can find it's original writer. They refuse to tell anyone whats written on the letter, but seem to be happy whenever they read it.
Fanfiction
Edit
Ask Blogs
Edit
Ad blocker interference detected!
Wikia is a free-to-use site that makes money from advertising. We have a modified experience for viewers using ad blockers

Wikia is not accessible if you've made further modifications. Remove the custom ad blocker rule(s) and the page will load as expected.