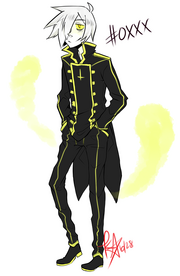 Headcanon
Edit
Has something to do with eletricity.
He has a time-space device to steal members of the real world to the Fanpro world.
He is a humanized flashlight. This is why his eyes glow.
He's Simon 's long lost brother.
Gay ghostbuster
Belongs to a group of religious magic users who regulate magic use.

Isn't in the highest position of this group, but not the lowest, either. 
Fanfiction
Edit
Ask Blogs
Edit
Ad blocker interference detected!
Wikia is a free-to-use site that makes money from advertising. We have a modified experience for viewers using ad blockers

Wikia is not accessible if you've made further modifications. Remove the custom ad blocker rule(s) and the page will load as expected.