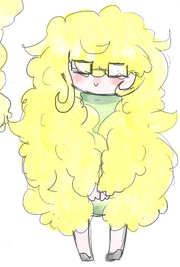 Headcanon
Edit
Probably has birds in her hair
Has four pet sheep that she loves a whole lot named Buttons, Magpie, Vesta and Shoe

Shoe is very hard to catch, for obvious reasons.

Close friends with 0205
Her name is Belinda. Her older brother is Alvin and her best friend is Wendy. Her mother is 0360 (yet to be named.)
nobody knows where her hair ends and her puffy sweater starts.
Her time living in a barren wasteland caused a yellowish cloud of dust to constantly kick up from her body whenever she moves.
When she cuts her hair it immediately grows back to the same length.
Fanfiction
Edit
Ask Blogs
Edit
Ad blocker interference detected!
Wikia is a free-to-use site that makes money from advertising. We have a modified experience for viewers using ad blockers

Wikia is not accessible if you've made further modifications. Remove the custom ad blocker rule(s) and the page will load as expected.