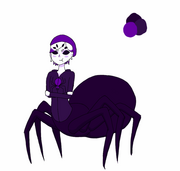 Headcanon
Edit
All of his webs kind of end up looking like waffles
Is a hipster in every sense of the word.
The teenage daughter of 0260.
Campaigning for mayor of the city. Her opponent is 0285.
Made a deal with their father that she would teach 0497 how to be a good spider. They often argue and fight due to personality clashes.
Thinks people don't like him or will treat him badly just because he is mostly a spider.
Fanfiction
Edit
Ask Blogs
Edit
Ad blocker interference detected!
Wikia is a free-to-use site that makes money from advertising. We have a modified experience for viewers using ad blockers

Wikia is not accessible if you've made further modifications. Remove the custom ad blocker rule(s) and the page will load as expected.