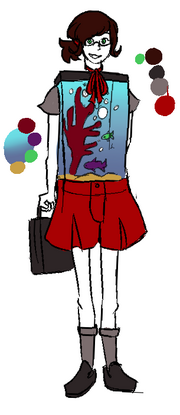 Headcanon
Edit
She absolutely adores fish so she paid a doctor over 7,000 dollars just to surgically remove her torso and replace it with a fish tank.
0063's older sister and supplier. She's used as a livewell for all the fish that her partner 0121 happens to net up.
Has to be very careful when walking to not spill too much of the water. Cant bend over from the waist-up very much either. Sometimes drops things in there, such as her cell phone. So many cell phones. Also, earbuds, hats, jewelry, and food.
Fanfiction
Edit
Ask Blogs
Edit
Ad blocker interference detected!
Wikia is a free-to-use site that makes money from advertising. We have a modified experience for viewers using ad blockers

Wikia is not accessible if you've made further modifications. Remove the custom ad blocker rule(s) and the page will load as expected.