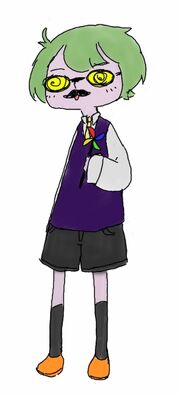 Headcanon
Edit
Is 0102's library assistant and repeatedly gets on 0102's nerves.
160 is a girl obsessed with wearing [http://en.wikipedia.org/wiki/Groucho_glasses Groucho Glasses .
Has absolutely no understanding of work, discipline, or anything that is not weird, kooky, or fun.
Fanfiction
Edit
Ask Blogs
Edit
Ad blocker interference detected!
Wikia is a free-to-use site that makes money from advertising. We have a modified experience for viewers using ad blockers

Wikia is not accessible if you've made further modifications. Remove the custom ad blocker rule(s) and the page will load as expected.