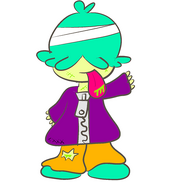 Headcanon
Edit
He's a little kid who has lime colored blood. He has cuts all around his body from getting into fights because he doesn't have parents and lives on the streets.
Loves to spit on people. Those who know him would rather he did, though, as his saliva is made of Mountain Dew.
Fanfiction
Edit
Ask Blogs
Edit
Ad blocker interference detected!
Wikia is a free-to-use site that makes money from advertising. We have a modified experience for viewers using ad blockers

Wikia is not accessible if you've made further modifications. Remove the custom ad blocker rule(s) and the page will load as expected.