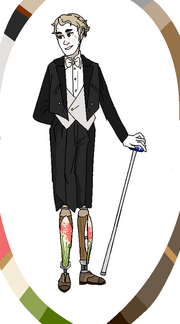 Headcanon
Edit
Close friends with 0451.
His legs are wooden because he accidentally burned them in a terrible house fire.
154 isn't ashamed of his handicap or his prosthetic legs. Infact he takes pride in his prosthetic legs, showing them off for all to see. To him they are a glorious work of art.
Is quite the gentleman and is very kind and polite to others.
Fanfiction
Edit
Ask Blogs
Edit
Ad blocker interference detected!
Wikia is a free-to-use site that makes money from advertising. We have a modified experience for viewers using ad blockers

Wikia is not accessible if you've made further modifications. Remove the custom ad blocker rule(s) and the page will load as expected.