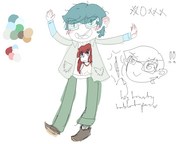 Headcanon
Edit
153 is an anime obessed geek (he insist on being called an otaku).
Has memorized every single line of dialogue in any anime ever created. Even the ones that are newly released.
Can only sleep with a body pillow
He is the ultimate Fanpro Otaku. He knows every fact about every character so if you ever need to know something about your favorite Fanpro (crush) ask him.
153 has even created figurines of the Fanpros he secretly fanboys over. The 0351 figurine is remarkably realistic. The 0373 figurine took him nearly five months to complete.

Infinity stole the figurine 153 made of her.

That's 0420 on 153's shirt.
Fanfiction
Edit
Ask Blogs
Edit
Ad blocker interference detected!
Wikia is a free-to-use site that makes money from advertising. We have a modified experience for viewers using ad blockers

Wikia is not accessible if you've made further modifications. Remove the custom ad blocker rule(s) and the page will load as expected.