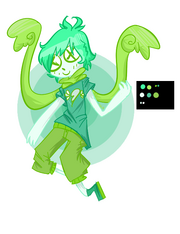 Headcanon
Edit
Somehow can see with his eyes closed and drew X's over his eyes for no reason at all.
He's a deep sea monster.
He was raised by somebody else after losing his real parents. He's actually pretty regular, his body mutated/adapted to fit his twilight-zone environment.
Is a ghost boy made of ecto-plasm.
Fanfiction
Edit
Ask Blogs
Edit
Ad blocker interference detected!
Wikia is a free-to-use site that makes money from advertising. We have a modified experience for viewers using ad blockers

Wikia is not accessible if you've made further modifications. Remove the custom ad blocker rule(s) and the page will load as expected.