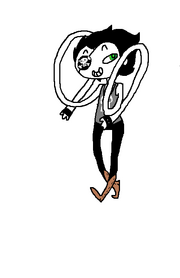 Headcanon
Edit
He's in 0127 's pirate crew.
He has incredibly stretchy arms.
Instead of driving, he just rolls like a wheel everywhere he goes.
He enjoys using his arms as slingshots. He holds the world record for shooting something the farthest.
his hugs can kill
her laughter is really cute.
Fanfiction
Edit
Ask Blogs
Edit
Ad blocker interference detected!
Wikia is a free-to-use site that makes money from advertising. We have a modified experience for viewers using ad blockers

Wikia is not accessible if you've made further modifications. Remove the custom ad blocker rule(s) and the page will load as expected.