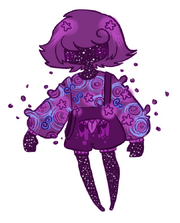 Headcanon
Edit
Can control time and space.
Doesn't have a face.
Mother is 0357, once Keeper of balance in the Universe, now simply looks over dark matter, and her father is 0353, the current Keeper.
Partners with 0000 with an eternal nature that can only match zirs
Any time she scratches a place on her body, a supernova happens.
Fanfiction
Edit
Ask Blogs
Edit
Ad blocker interference detected!
Wikia is a free-to-use site that makes money from advertising. We have a modified experience for viewers using ad blockers

Wikia is not accessible if you've made further modifications. Remove the custom ad blocker rule(s) and the page will load as expected.