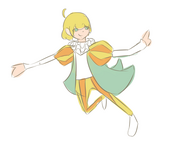 Headcanon
Edit
Likes to be in plays.
Very outgoing and egotistical. Despite this, he has a heart of gold and really has a sweet heart. He'd do anything to help others, though he'd act like he was doing it out of his own best interest.
Best friends with 0398, even though they are opposites in personality (or perhaps because of it). 
Is basically the ghost of The Happy Prince
Exaggerates his emotions and screams a lot.
Fanfiction
Edit
Ask Blogs
Edit
Ad blocker interference detected!
Wikia is a free-to-use site that makes money from advertising. We have a modified experience for viewers using ad blockers

Wikia is not accessible if you've made further modifications. Remove the custom ad blocker rule(s) and the page will load as expected.