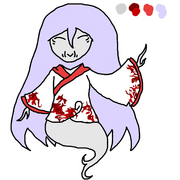 Headcanon
Edit
Appears to be a jolly old ghost but in reality, she's lonely and wishes somebody besides other ghosts could talk and interact with her.
Ancient spirit of the wind.
While alive, she was a chief maid for a wealthy lord. Though she was aged, she still had strong feelings for her master, but he was married. When she confessed, the lord obviously refused her affection, and she ran away. A few days later, she died of a heart attack, or rather, heartbreak.

Now she is bound to a large house, to which she is altruistic to all. She does different tasks for her visitors constantly, and when she hears news about their leaving, she reveals a ferocious temper. She always wants to serve others in any way she can, though she also wants them to stay as long as possible. This is meant to resemble the problem she had when she died.
Fanfiction
Edit
Ask Blogs
Edit
Ad blocker interference detected!
Wikia is a free-to-use site that makes money from advertising. We have a modified experience for viewers using ad blockers

Wikia is not accessible if you've made further modifications. Remove the custom ad blocker rule(s) and the page will load as expected.