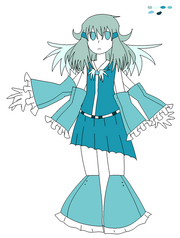 Headcanon
Edit
She's very quiet, and has a hard time making friends.
Her name is Momi.
Very fragile, but also very beautiful.
Often sick as a child, has a weak immune system.
Frequently asked by the others to help them, as she has four arms and can get work done a lot quicker.
Most people in her realm get their excess two arms removed, but she vowed to keep hers.
She is rarely allowed to venture outside by her strict but loving parents.
Great at using her many hands, she is an expert pianist.
She was once a compulsive liar that became a saint of Zeroism, after being blessed with a self-sufficient soul.
She is nearly completely blind, and sees the entire world in dim shades of blue.
A White Flannel Moth who was turned into a fairy by a magician.
Fanfiction
Edit
Ask Blogs
Edit
Ad blocker interference detected!
Wikia is a free-to-use site that makes money from advertising. We have a modified experience for viewers using ad blockers

Wikia is not accessible if you've made further modifications. Remove the custom ad blocker rule(s) and the page will load as expected.