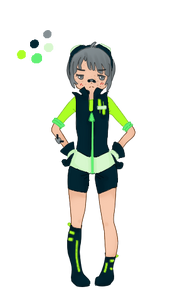 Headcanon
Edit
Broke her nose in a skateboarding accident.
Very good with technology.
Frequently 're-codes' rooms, a process which allows her to pause everything, and change the content, appearance, and what is inside the room. She tries to use it sparingly anywhere other than her room, however, as it often has negative affects.
Close with 0000.
Works in the repairs industry
Uses a specially-designed wrench that's just as effective as a whip-like weapon as when used for mechanical work. Her services are somewhat costly, and she takes no crap from anybody. As a business, she's quite unsuccessful, though her generally neutral demeanor and skill often attracts older men to her.
Fanfiction
Edit
Ask Blogs
Edit
Ad blocker interference detected!
Wikia is a free-to-use site that makes money from advertising. We have a modified experience for viewers using ad blockers

Wikia is not accessible if you've made further modifications. Remove the custom ad blocker rule(s) and the page will load as expected.