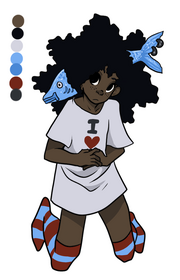 Headcanon
Edit
Somehow got a fish stuck in his hair. The fish is still alive and can communicate with 0121.
Is a powder monkey in 0081's pirate crew.
The fish constantly interrupts 0121 and is very bossy.
He is mute, so the fish speaks for him. It sounds sort of like Alec Baldwin.
She has a hobby of being a fishnet. Clearly, she's very good at it.
She was transported into a dream world in her sleepwear by the fish. She caught it one day, and woke up the next day in a strange world she has never seen.
 Fanfiction
Edit
Ask Blogs
Edit
Ad blocker interference detected!
Wikia is a free-to-use site that makes money from advertising. We have a modified experience for viewers using ad blockers

Wikia is not accessible if you've made further modifications. Remove the custom ad blocker rule(s) and the page will load as expected.