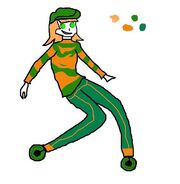 Headcanon
Edit
He was made by 0011 because he wanted a brother. He has taken the role of 0011's big brother.
Genderless robot created to build machinery.
His limbs are made from flexible rubber. 
He has wheels instead of feet.
Contrary to what her outfit of choice may hint at, she isn't irish and gets really annoyed when people assume she is.
Fanfiction
Edit
Ask Blogs
Edit
Ad blocker interference detected!
Wikia is a free-to-use site that makes money from advertising. We have a modified experience for viewers using ad blockers

Wikia is not accessible if you've made further modifications. Remove the custom ad blocker rule(s) and the page will load as expected.