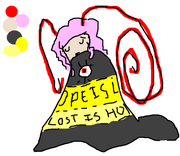 Headcanon
Edit
Really likes bees and other insects.
It's actually a sentient lump of gray slime, and what seems to be its head in the picture is a creature it carries around for companionship.
The red tendrils in her head are actually power lines that got lodged in her head. She uses them to manipulate electricity, and was used to power the city for 2 years. The wires are red due to blood stains.
Fanfiction
Edit
Ask Blogs
Edit
Ad blocker interference detected!
Wikia is a free-to-use site that makes money from advertising. We have a modified experience for viewers using ad blockers

Wikia is not accessible if you've made further modifications. Remove the custom ad blocker rule(s) and the page will load as expected.