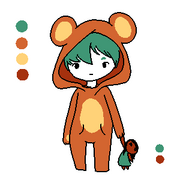 Headcanon
Edit
hes a stuffed bear that switched places with his owner so he is now a child and the owner is now a toy
He is actually 20 years old
Something genetically altered his DNA so that he looks way younger than he actually is. He is very old and could never deal with growing up so he figured since he already looked like a child he might act as if he really is one.
His size and physique is at its core unimpressive, though he unmistakably has the strength of a larger bear.
 Fanfiction
Edit
Ask Blogs
Edit
Ad blocker interference detected!
Wikia is a free-to-use site that makes money from advertising. We have a modified experience for viewers using ad blockers

Wikia is not accessible if you've made further modifications. Remove the custom ad blocker rule(s) and the page will load as expected.