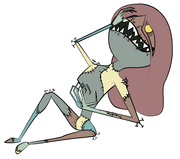 Headcanon
Edit
She is a rag doll entirely made out of rags that mysteriously came to life.
Thinks puns are just about the funniest things ever
Has a kind of insane Joker-esque personality to her.
She never lets anyone see her true face. She always sews different faces onto herself, trying to be like most of the other Fanpros.
Fanfiction
Edit
Ask Blogs
Edit
Ad blocker interference detected!
Wikia is a free-to-use site that makes money from advertising. We have a modified experience for viewers using ad blockers

Wikia is not accessible if you've made further modifications. Remove the custom ad blocker rule(s) and the page will load as expected.