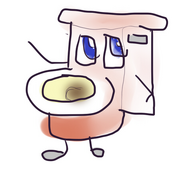 Headcanon
Edit
People always ask him if he eats what they drop in the toilet and he gets really offended by this. He just wants to be treated like a human being instead of a talking toilet.
Great big potty mouth.
It tickles when you flush him.
Has been clogged with a huge dump since 1983
Has worked as a mascot for many hardware and plumbing stores in Japan
it roams in wild in a huge herd
got married to 0296 on the spring of 1988. They've been inseparable ever since.
Graduated college with 0042. They still keep in touch.
Fanfiction
Edit
Ask Blogs
Edit
ask--0096
Ad blocker interference detected!
Wikia is a free-to-use site that makes money from advertising. We have a modified experience for viewers using ad blockers

Wikia is not accessible if you've made further modifications. Remove the custom ad blocker rule(s) and the page will load as expected.