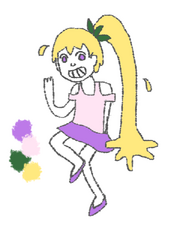 Headcanon
Edit
Her hair is an infinite supply of lemonade, at least when she's really happy (she usually is) but when shes mad, it turns into really sour and pure lemon juice.
dances to popipo a lot
Is almost 12 years old and really likes dinosaurs
Tried to cosplay Princess Peach, but tried too hard.
Fanfiction
Edit
Ask Blogs
Edit
Ad blocker interference detected!
Wikia is a free-to-use site that makes money from advertising. We have a modified experience for viewers using ad blockers

Wikia is not accessible if you've made further modifications. Remove the custom ad blocker rule(s) and the page will load as expected.