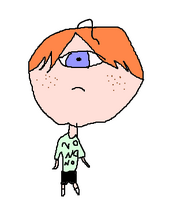 Headcanon
Edit
He is a scaredy cat.
He was quite a pushover, which saddened him. To prevent this, he now wears a shirt with a lot of "NO"'s written on it. He is unsatisfied, though, because he thinks this might give off the wrong signal.
0000's VERY VERY distant younger cousin.
a HUGE fanboy of 0000. Desperately wants to meet them.
Fanfiction
Edit
Ask Blogs
Edit
Ad blocker interference detected!
Wikia is a free-to-use site that makes money from advertising. We have a modified experience for viewers using ad blockers

Wikia is not accessible if you've made further modifications. Remove the custom ad blocker rule(s) and the page will load as expected.