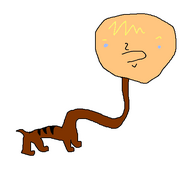 Headcanon
Edit
Pilots a gundam.

Used to pilot a Gundam but then he got too old and wasn't alloweed to pilot Gundams anymore.

It farts a lot.
No one likes to touch it.
Is a hopeless romantic who believes in "love at first sight".
He is a god
His nose elongates when he's sad
Sometimes urinates out  of anxiety
Heavily religious

He practices them all, especially the ones that contradict other religions.

Genderless
Makes pooty sounds with its naval cavity
Favourite television show is 'Deadliset catch'.
Loves sushi
Recovering alcoholic
Cries its self to sleep, sometimes.
Its father never hugged it

To be fair, its father has no arms.

Former angel of darkness (before promoted to full god)
Head rotates like owl
Is actually a deadly predator.
The "head" is actually a lure, such as that of a lantern fish; the stripes on its back are independently acting mouths, each with a chameleon-like tongue to snatch up prey when it is lured too close.
 Fanfiction
Edit
Ask Blogs
Edit
Ad blocker interference detected!
Wikia is a free-to-use site that makes money from advertising. We have a modified experience for viewers using ad blockers

Wikia is not accessible if you've made further modifications. Remove the custom ad blocker rule(s) and the page will load as expected.