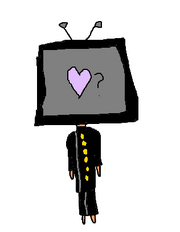 Headcanon
Edit
There is a race called the television people and this person is of that race. There are very few because most of them got wiped out in a war.
The future can be seen on his monitor. (Opposite of 0087)
dating 0087
82 likes to read.
Leading Anchorman of Fanpro News, partnered with 0087.
 Fanfiction
Edit
Ask Blogs
Edit
Ad blocker interference detected!
Wikia is a free-to-use site that makes money from advertising. We have a modified experience for viewers using ad blockers

Wikia is not accessible if you've made further modifications. Remove the custom ad blocker rule(s) and the page will load as expected.