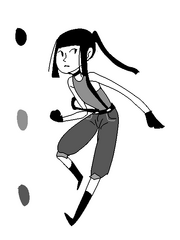 Headcanon
Edit
Is a highly trained ninja.
65 pilots a Mazinkaiser style giant robot.
While controling the giant robot, her arms are always crossed. This is because true daredevils pilot giant robots with their awesomeness.
65 is 0113's twin sister. She claims to be the eldest.
Really really likes dogs
Is a newspaper reporter, partnered with 0046 . She's passionate about finding the truth, although she tries to act stoic. They also solve crime on the side.
Awesome at parkour
Really awful at committing to a relationship
A mute who communicates through interpretive dance and martial arts. Good luck getting her comments correct, though.
A secret agent or spy.
Fanfiction
Edit
Ask Blogs
Edit
Ad blocker interference detected!
Wikia is a free-to-use site that makes money from advertising. We have a modified experience for viewers using ad blockers

Wikia is not accessible if you've made further modifications. Remove the custom ad blocker rule(s) and the page will load as expected.